南通
NANTONG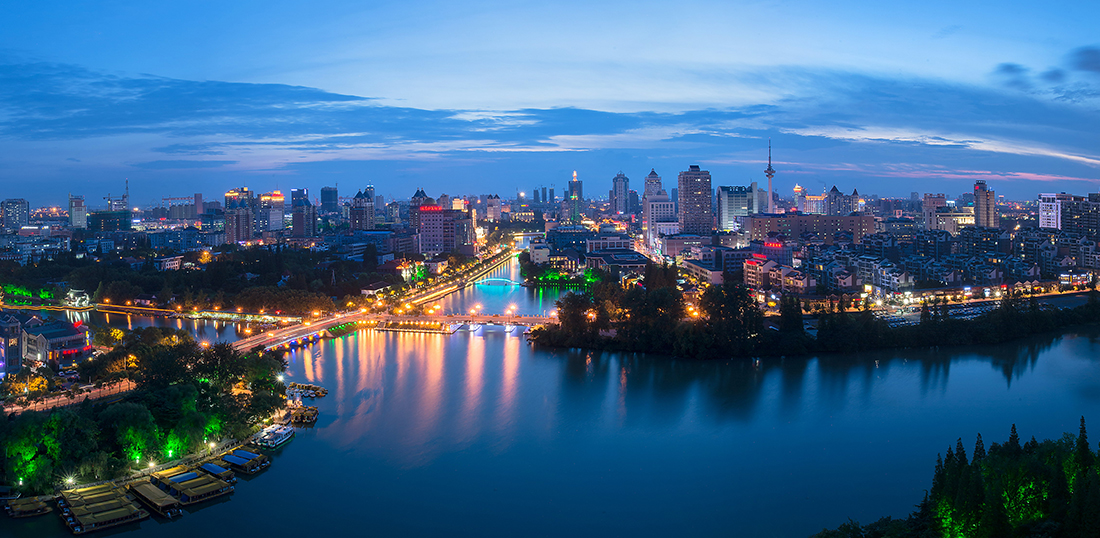 南通,江海交汇,与国际大都市上海隔江相望,是长三角北翼的一颗璀璨明珠。
南通,钟灵毓秀,人才辈出。5000多年前,海安青墩孕育了江海文明之光。百余年前,先贤张謇书写了"中国近代第一城"的辉煌。而今,江海文化愈加灿烂,长江之畔,黄海之滨,狼山脚下,濠河波里,刺绣成锦,板鹞高飞,花鼓阵阵,古琴悠悠,一处处历史遗存,一件件非物质文化遗产,如古老的蓝印花布般质朴天然,汇聚成南北交融厚重的文化积淀。
南通,繁荣兴盛,2016年实现地区生产总值6768亿元,比2011年增长65.5%。
南通,正挺立于接轨上海新的机遇"风口",苏通大桥、崇启大桥、新长铁路、宁启铁路、江海组合港、兴东国际机场等已经构建起陆海空联网的宏大交通格局,沪通公铁两用大桥、沿江沿海高铁将为南通未来发展插上腾飞的臂膀。
南通,意气风发、御风而上,中央创新区高起点布局、"三港三城三基地"加速推进,南通正致力成为具有区域影响力的创新之都、上海大都市北翼门户城市,转型跨越的脚步铿锵。
南通,山灵水秀,宜居宜业。随着国家生态园林城市、国家森林城市和花园城市"三城同创",一个以绿色、生态为本底的美丽南通,将让人来了就不想走,走了还在梦中留。
江上百舸争流,心中豪情万丈。南通这座拥江揽海的活力之城,正以包容会通、敢为人先的姿态,崛起长三角,领跑长江北,走向全世界!
江海南通,通江海,达天下!
STAGE 5 Nantong -Haimen
Nantong, a place where the river empties into the sea, looks across the Yangtze River to the cosmopolitan city of Shanghai, and nestles in the north wing of the Yangtze River Delta like a sparkling pearl.
Nantong, a city well-endowed with natural and humanistic charms, has brought forward generations of men of talents. Hai'an Qindun relic site, dating back to 5000 years ago, brooded the light of a brilliant River-and- Sea Civilization. Over a century ago, Zhang Jian, a most important figure in local history, carved out a glorious era of surging development when Nantong was deemed the most important pioneering city in modern China. Up to now, full-bloomed river-and-sea culture is embodied on the bank of the Yangtze River, along the coast of the Yellow Sea, at the foot of the Langshan Mountain, amid the water waves of Haohe River, in handicraft products like Shen Embroidery, whistling kites and flower drums, and in melodious tunes played on ancient musical instruments called Guqin. Sites of historical relics, artifacts of intangible cultural heritage, showcasing such a style of simplicity and elegance as is represented in homespun fabric Blue Calico, constitute rich and profound cultural deposits, integrating elements from both the Noth and the South of the country.
Nantong, a prosperous city, realized a GDP of 676.8 billion RMB in 2016, scoring a 65.5% increase from the 2011 figure.
Nantong, seizing the opportunity, emerges at the forefront of integration to Shanghai. Su-tong Bridge, Chong-qi Bridge, Xin-chang Railway, Nin-qi Railway, river and sea port group, Xingdong International Airport, etc, lay out a huge land-sea-air inter-connected traffic network. Hu-tong Highway Railway Bridge and high speed rails along river and sea coastlines give an updraft to Nantong s take-off.
Nantong, inspired by high and vigorous spirits, is riding on the great winds, which gives the planning of a Central Innovation Area a high starting point. The accelerated "3 Ports, 3 Cities, 3 Bases" development is under way. Nantong, taking sonorous and forceful steps in its transformation, undertakes to pose itself as an innovative city with regional influence, and as the gateway to the north of the cosmopolitan city of Shangha.
Nantong, with charming mountains and rivers, is an ideal place for work and life. In completing the triple tasks of building itself into national eco-garden city, national forestry city and garden city, with sound greenery coverage and eco-system, Nantong makes a visitor feel reluctant to leave once he comes: and when he leaves. the city lingers in his dream.
A hundred ships race forward on the river. People are aspired by great goals. Embracing the river and sea, emerging from the Yangtze River Delta, and leading the north of the Yangtze River, Nantong is striding vigorously toward the world. Nantong, connects the River and Sea, and reaches the world far and near.
海门
HAIMEN
海门素有"江海门户"之称和"金三角上小浦东"的美誉。是清末状元、著名实业家、教育家张謇先生的故里,是全国著名的"科技之乡""教育之乡""纺织之乡""建筑之乡""平安之乡"和"生态之城"。
——这里,空港环抱四周。100公里半径内有4个建成机场:南通兴东机场、上海虹桥机场、浦东机场和苏南硕放机场。
——这里,公路四通八达。沪陕高速(G40)、沿海高速(G328)、扬启高速(S28)、沿海高等级公路穿境而过。
——这里,铁路密集建设。宁启铁路海门段正加快建设,北沿江高铁即将开工建设;高铁复线(沿海高铁)也在深入论证中。
——这里水路通江达海。江港、海港、叠石桥无水港"三港联动",海门是名副其实的"江海门户"、"开放之门"。
Haimen is usually called"The door of rivers and seas"and"Little Pudong on the Golden Delta". Not only is it the hometown of the number one scholar in late Qing Dynasty, famous industrialist, and educator ----Mr. Zhang jian, but also is famous " Hometown of science and technology" "Hometown of education" "Hometown of textile manufacturing" "Hometown of construction" "Hometown of peace"and "Ecological town".
--Here, airports are surrounding. There are four completed airports within a 100-kilometer radius: Nantong Xingdong Airport, Shanghai Hongqiao Airport, Pudong Airport and Sunan Shuofang International Airport.
--Here, highways extend in all directions. Shanghai-Shanxi Expressway (G40), Coastal Expressway (G328). Yangzhou-Qidong Expressway(S28), and Costal High-level Expressway go through the boundary lines.
--Here, railway construction is intensive. The Haimen section of Nanjing-Qidong Railway is speeding up its construction, and Beiyanjiang High Speed Railway is about to start construction; Besides, High Speed Double Lines Railway (Costal High Speed Railway) is also in the deep argument and confirmation.
--Here, waterways go through rivers and seas. "River port, seaport and Stacked stone port" are combined to open and operate, so Haimen is a genuine "The door of rivers and seas" and " The door of opening-up".