姜堰
JIANGYAN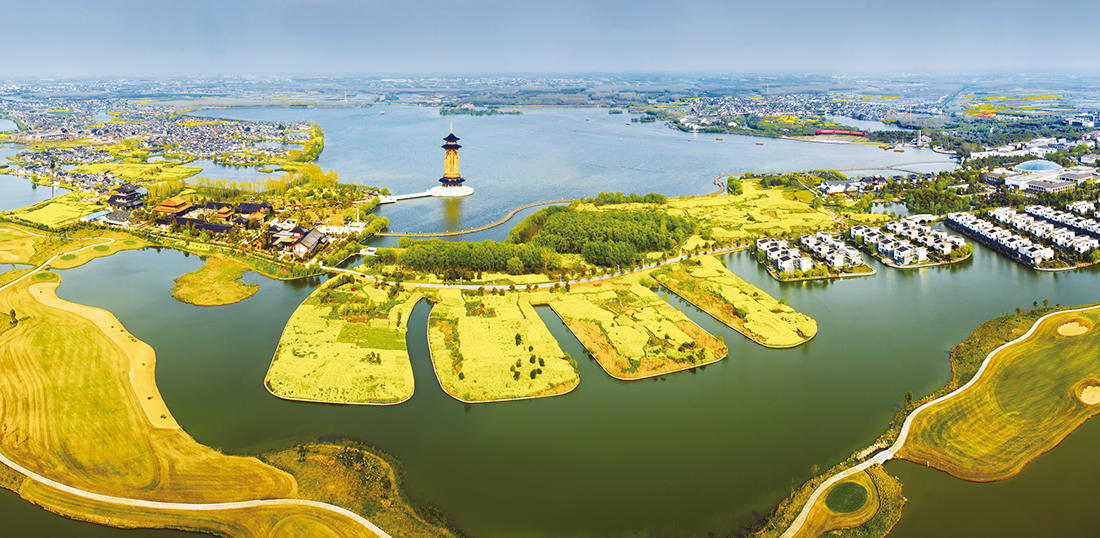 姜堰位于江苏省中部,地跨长江三角洲和里下河平原,是泰州市的东门户,因北宋初年姜氏父子在此筑堰抗洪而得名。全区总面积928平方公里,人口80万,下辖14个镇、2个街道、1个省级经济开发区、1个省级旅游度假区。
姜堰历史悠久、人文荟萃。境内单塘河新石器遗址距今约6000年,天目山商周遗址为春秋时期江淮古城,溱潼古镇是中国历史文化名镇,"溱潼会船"被列为国家级非物质文化遗产。历史上产生了"泰州学派"创始人王栋、"清代棋圣"黄龙士、武状元刘氏兄弟、"当代草圣"高二适等众多学者名士。在当代,李德仁、李德毅、李德群"一门三院士",北斗导航系统副总设计师杨元喜、中国工程院院士缪昌文等知名人士也都出自姜堰。
姜堰物产丰富,土地肥沃,素有"鱼米之乡"之称。近年来,全区经济社会发展健康平稳,并形成了特有的"三张名片"。"生态名片":姜堰是国家生态文明建设示范区,所有镇街全部获得国家生态镇命名。"旅游名片":溱湖湿地公园是国家5A级旅游景区,溱潼古镇、古罗塘旅游文化景区是国家4A级旅游景区。"教育名片":姜堰是全国推进义务教育均衡发展工作先进区,教育水平全省领先,全省高考"状元"连续三年花落姜堰。近年来,姜堰高度重视体育事业发展,先后成功举办世界女子围棋擂台赛、泰州铁人三项亚洲杯赛、环太湖自行车赛、溱湖半程马拉松等体育品牌赛事。
STAGE 4 JIANGYAN
Jiangyan is located in the middle of Jiangsu province going across Yangtze River Delta and Lixia River plain.During ancient times, it was historically the intersection of Yangtze River, Huai Ri River and Canghai, also known as" Three Waters". The district has a total area of 928 square kilometers and a population of 800000 with 16 towns, a provincial economic development zone, and Qin Lake tourist resort has been listed as a national 5A class tourist scenic spot.
Jiangyan has a long history and a gathering of talent. The Single-pond New Neolithic Relics has been reserved for about 6,000 years and Shang & Zhou Relics on Tianmu Mountain were Jianghuai ancient town during Spring and Autumn Period. Qintong ancient town is a famous historic and cultural town within China, and"Qintong Boat Festival" has been listed as the national intangible cultural heritage. There have been a number of celebrities and scholars such as Wang Dong, the founder of Taizhou School, Huang Longshi, a chess sage in Qing dynasty, Gao Ershi, a contemporary sage of calligraphy and the master of Beijing Opera, Mei Lanfang.
Jiangyan is renowned as the hometown of education, tourism, architecture and chess with its social economy in rapid develo pment. It has been endowed with the titles as one of the one-hundred small and medium-sized cities with strong strength, one of the one-hundred small and medium-sized cities with the most investment potential, national sanitary city, state-level demonstration zones of ecology, the demonstration zones of leisure agriculture and rural tourism, civilized city and the demonstration zone of public sports service system of Jiangsu province. The first of the provincial college entrance examination has been from Jiangyan for three consecutive years.Moreover, Jiangyan has successfully held the World Women's Chess Challenge Competition, Taizhou AATC Triathlon Asian Cup and other brand sports events.